Document and Identity Validation
Passports, Visas, Driving Licences, National IDs
Why choose IDV Pacific for identity checks?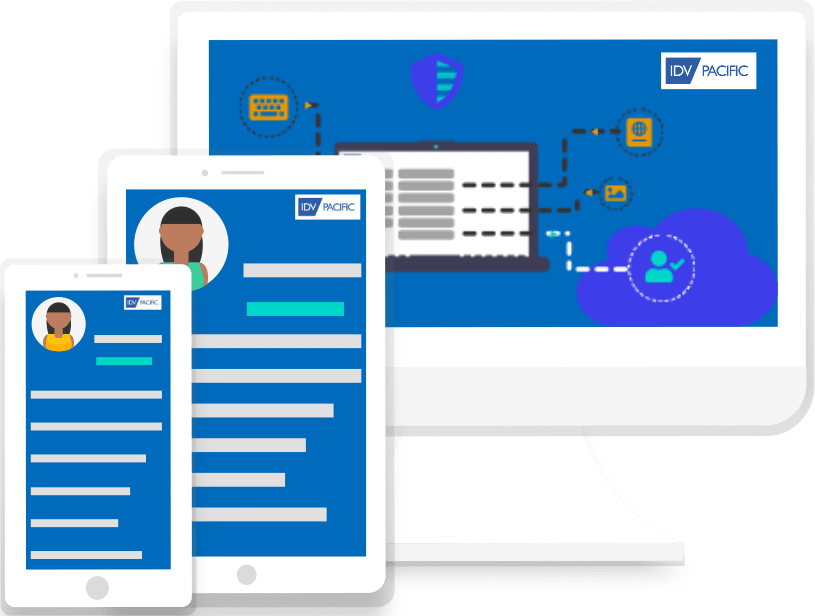 ❖  We're experts in identity document verification. We make it easier for organisations of all sizes to make quick, affordable and consistent ID checks from anywhere.
❖  Our ID verification solutions enable you to do ID checks to:
confirm compliance with Labour Licensing Laws,
run identity checks for conveyancing,
prevent fraud in the public sector, or
check ID as part of VOI/ KYC/AML legislation,
❖  We also have the best document helpdesk team in the industry. They help analyse ID scans to ensure you only accept genuine ID documents and offer advice and guidance on identity validation.
Our range of identity validation solutions
Install an in-house system for volume checks
5 Reasons why it's best for identity document fraud detection

Accuracy:
Multiple concurrent validation methods for visual and non visual security features
Speed:
Scan, validate and return results in seconds
Compliance:
Demonstrate regulatory and internal compliance with full audit trail
Consistency:
Accommodate varying operator skill and experience levels
Affordability:
Flexible purchase options for long term affordability
IDV Pacific's Border Control Standard identity document validation products are both affordable and scalable
Desktop Solution – can be deployed as a single or multiple networked scanner solution to suit the number of locations or branches required by your business
Scanners and required software can be purchased or rented to suit your needs
Mobile/Tablet App – iOs and Android apps available
Pricing based on pre-purchased number of uses or the app can be licenced for unlimited customer use if required
Cloud / Web browser-based solution – can be deployed internally on the client's network or accessed via authorised user accounts
PAYG or periodic contract billing alternatives available
IDV Pacific identity document solutions provide rapid responses enabling 'on the spot' validation
Desktop scan results are provided instantaneously with simultaneous automatic creation of archive file and pdf if required
The entire process should take approx. 15 seconds per scan
Mobile / Tablet App process takes about 45 seconds per scan. Results pdf automatically generated within this process
Cloud / Web browser-based requests take approximately 1-2 minutes depending on the internet connection*
Assumes acceptable document image quality
IDV Pacific and our key technology partners provide comprehensive support services for all products.
Our team of document experts manually check and review any documents which fail to validate correctly so that you always receive back a conclusive result. And they're on hand to offer document advice if you need it too!
Book your demo or request more information
Compliance can be a confusing process. Ask about our diagnostic and consultancy service.
One on one discussion with an identity validation expert to discuss how identity validation helps your business comply with regulations

An in-house demo of the desktop solution highlighting ease and speed

Scan some of your own documents and get copies of the PDF Audit Reports