Essential online checks for reliable, first-line identity document validation
The IDV Pacific Cloud solution lets you validate identity documents like passports and visas through our dedicated website. You can upload images by attaching a scanned image from your computer or network or using an image taken with your mobile or tablet device.  The document images are then processed and validated by the Cloud Service, and the results returned via the portal.
Check Passports, ID cards, Visas (including automated VEVO checks) and Driving Licences
Submit scans and copies of identity documents or take a picture and upload it with your smartphone or tablet
Upload supporting documents (proof of address, PAYE certificates, etc.) for no additional charge
Download detailed pdf audit reports
Backed up by our expert helpdesk service
The IDV Pacific Cloud validation services enable you to:
Quickly and easily perform reliable and consistent checks on staff, customers and other people you do business with
Protect your brand and reputation against fraud
Comply with the latest legislation – Right to Work, Labour Hire Agency Licensing legislation, Anti-Money Laundering (AML), Know Your Customer (KYC), Verification of Identity (VOI)
Save time, improve efficiency and drive accurate and consistent compliance results
Reduce the decision-making and training pressure on frontline staff
Demonstrate Compliance
IDV Pacific Cloud services enable organisations to demonstrate compliance with statutory obligations and internal policies:
results of scans can be downloaded and saved in soft copy by clients
pdf reports created for all validation results
audit trail created and automatically stored
Many business sectors require expert identity validation
IDV Pacific Cloud can help organisations meet their compliance requirements with:
Educational institutions checking the status of overseas students' study visas
Employment contractors and recruitment agencies verifying candidate bona fides, identity and work visas
Retailers and food outlets for store managers checking the identity of staff
Financial institutions checking ID in the field for KYC, AML
Rental agents checking tenant identities
Conveyancing agents requiring Verification of Identity (VOI) checks for property transfers
Affordable, easy and scalable
Checking a few documents or thousands?  From the office or on the move, our cloud service can help. You'll be up and running quickly and economically – be registered and trained in 1 day
Expert support
Our team of document experts manually check and review any documents which fail to validate correctly so that you always receive back a conclusive result. And they're on hand to offer document advice if you need it too!
Fast results
Our online check helps you confirm the validity and format of an ID document in minutes.
We verify printed information and send you a detailed .pdf audit report to download.
Integrate with your systems
Want to check ID documents as part of your online customer or employee on-boarding process? Our APIs can seamlessly integrate IDV Pacific checks into your own system.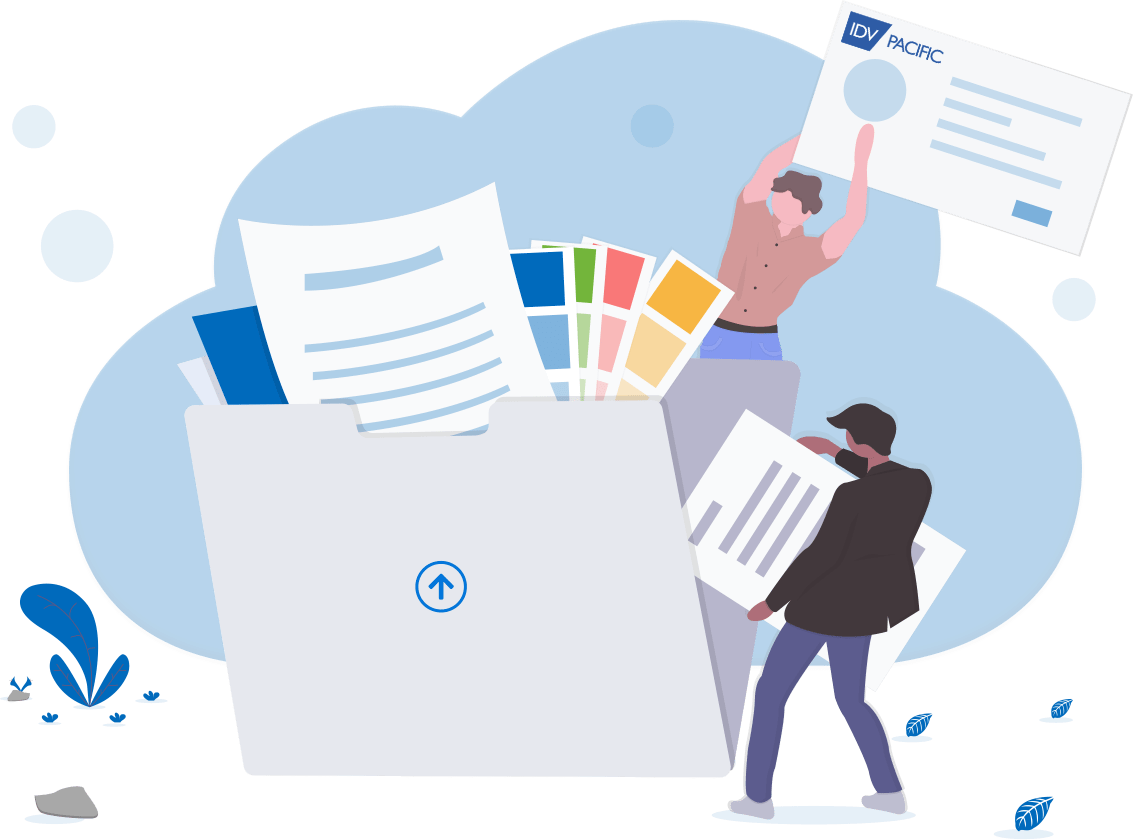 Cloud based scanning explained…
Watch a short 2 minute demo
Our UK affiliate TrustID created a short overview video of our cloud-based validation service to give you an idea of how it works. While UK centric, it is applicable to Australia and New Zealand.
We'd love the chance to visit your business to discuss our solution and how it best fits your needs. If you want to know more please contact us using the form below.
Why use IDV Pacific Online identity solutions?
| | | |
| --- | --- | --- |
| | Compliance | Compliant with new regulations from Department of Home Affairs (DHA) and state based Labour Hire Agency Licensing Laws. See here for Victorian details and here for Queensland details |
| | Cost effective | Subscription pricing available |
| | Easy to learn | Online training available. Typically 15 minutes to learn |
| | No keying data | Data is extracted from passport images using Optical Character Recognition |
| | Instant results | Results are typically available within seconds |
| | Detect fraud | When scanning passports, option is available to validate using TrustID software (see Cloud Solution here) |
| | Batch facility | Queries can also be submitted in batch mode. IDV can process up to 2500 applications per day. Input can be either a folder of passport images or data in a CSV file or Excel format |
| | Audit trail | Results are returned onscreen and in an audit compatible PDF format |
| | Alerts | Get alerts for re-validation, or optionally we can execute re-validation automatically |
| | Reputation | Reduce the risk of financial penalties or harm to your corporate reputation and public image |
| | Multi branch | Businesses with multiple branches or locations can have separate accounts for each branch, with consolidated billing |
| | APIs | All passport and visa data is accessible through the IDV API to populate legacy systems. This can be integrated by client into legacy system/s for automated operation |
Not sure what service you need?
Request a call to discuss your particular requirements.