Desktop Scanning; gold standard validation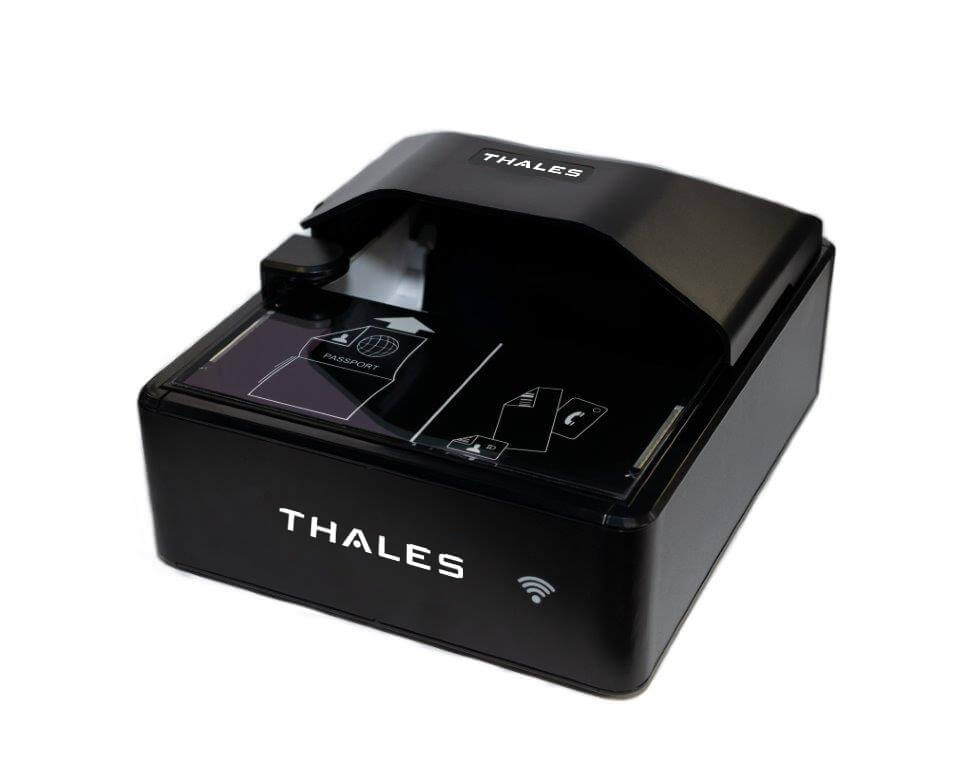 The Scanner Unit
Thales Gemalto Document Readers are a  familiar sight at border control desks around the world. The new generation document reader AT10K​ is a compact, full-page scanner. It reads and authenticates multiple document types quickly, efficiently, and accurately.
This easy-to-use device is a convenient size, operates from your desktop, and connects via USB (or optional WIFi/Network model AT10Ki) to any computer running the IDV software.
Our robust document scanner can read identity documents in a few seconds. It captures information visible to the naked eye, and more importantly, it captures and evaluates the non-visible security features that fraudsters find most challenging to replicate.
The AT10K reads passports, ePassports, ID cards, national IDs, visas and driver's licenses, 1D and 2D barcodes from printed documents and mobile phones.
The IDV Software
All scanners come with our powerful software which is designed to make the process of validating documents as intuitive as possible by guiding the user through each scan to confirm the information captured is correct and valid.
Capture
Scanning a document is as simple as placing it on the scanning window and waiting a few seconds. The software starts automatically and alerts the user to remove the document when scanning is complete.
Process
Depending on the document type, the software will read visible and non-visible information to check validity. It will also display the photos from the document, including those in e-passports with RFID chips, for the operator to confirm that they match the person presenting the document.
Validate
The powerful software rapidly processes and confirms the validity of documents. This efficient process is crucial for the majority of customers or applicants who are presenting genuine documents.
The scanner's Optical Character Recognition captures key document details and applicant data. This data can be used to populate other systems via our APIs.
Reports and Archive
All documents processed through the system can be archived and retrieved at any time using a flexible search facility via the IDV Pacific user portal.
Searches bring back all details including images, providing a complete audit trail.
An automated delete function can be configured to remove personal data after a set time to ensure compliance with data protection guidelines, as required by the user.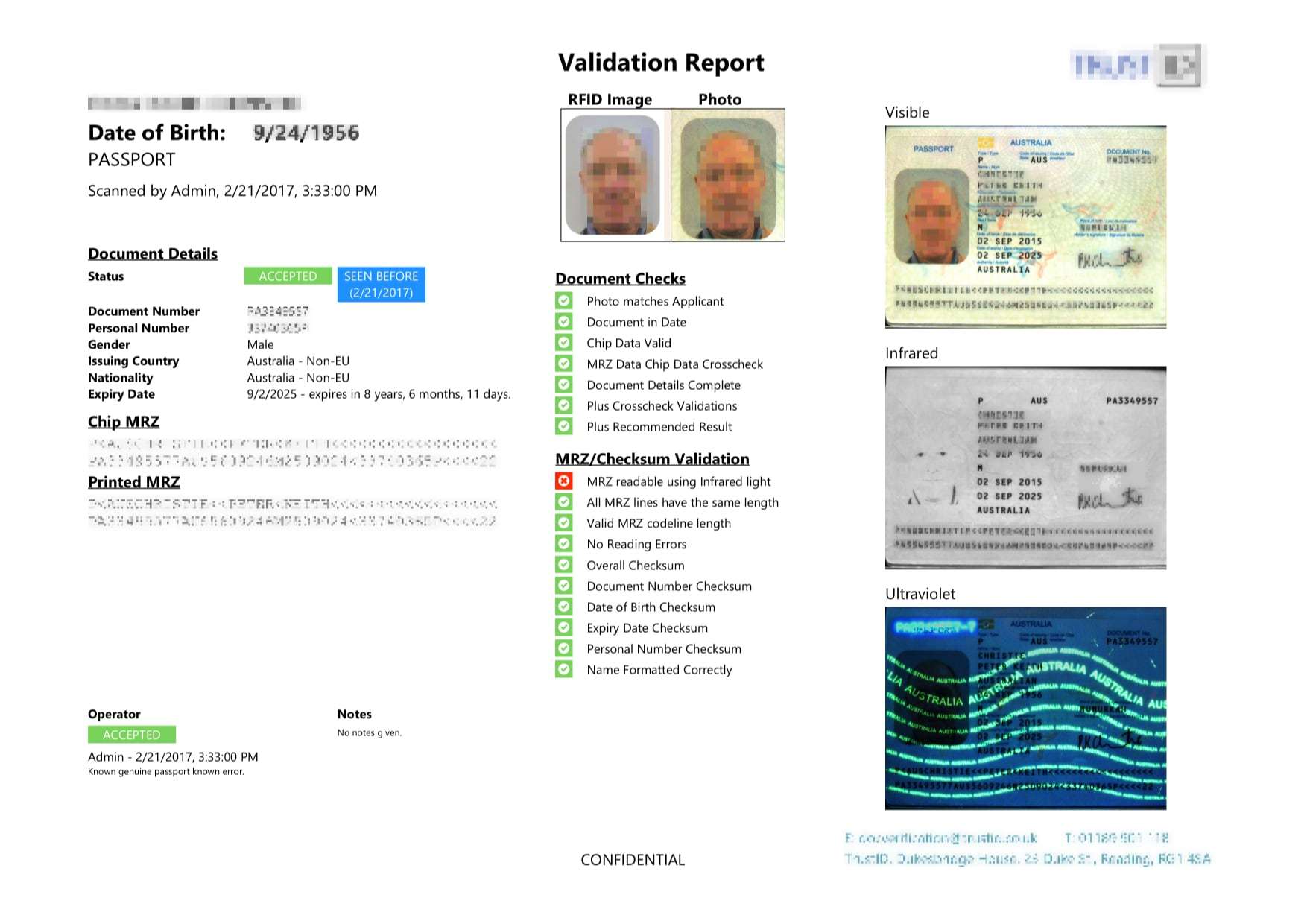 Our desktop scanning solution is our most comprehensive validation solution, and it is relevant to private and public enterprises across many sectors
All organisations require increasing levels of confidence in the identity of staff, customers, contractors and visitors
The solution benefits organisations that need to scan and check identity by performing:
• Know Your Customer (KYC)
• Anti-Money Laundering (AML)
• Verification of Identity (VOI) due diligence (e.g. Land Titles Office regulations introduced in November 2015)
Who can benefit from using the IDV Pacific Desktop Solution?
Recruitment agencies
Higher education institutions
Conveyancing agents
Landlords and letting agents who need to validate the identity of their tenants
Financial services
Construction
Facilities management
Security
among others
Multiple Benefits
Our desktop solution gives organisations the ability to scan identity documents to facilitate rapid customer acquisition and employee on-boarding
To perform reliable and consistent checks on staff, customers and other people you do business with
Using the available API (Application Program Interface), organisations can transform current workflows. With minimal training,  operators can complete the workflow  to validate and process in seconds, at the same time improving consistency across the organisation
To protect against fraud while protecting your brand and reputation
To prove compliance with legislation – Right to Work, Right to Rent, Anti-Money Laundering (AML), Know Your Customer (KYC), Verification of Identity (VOI)
To save time and improve efficiency – no need to photocopy and file documents manually
Desktop scanning explained – Watch the Video
IDV Pacific Desktop Scanning
Fast and accurate validation of documents used to support identity.
IDV Pacific Desktop uses the TrustID Validation engine to validate passports, visas, national identity cards and driving licenses
Our UK affiliate TrustID has created a short overview video of our desktop scanner based validation service to give you an idea of how it works.
We'd love the chance to visit your business to discuss our solution and how it best fits your needs. If you want to know more please contact us using the form below.
Book your demo or request more information
Request a call to discuss your requirements.
One on one discussion with an identity validation expert

An introduction to IDV Pacific services and the channels we use to deliver those services

Discussion on which services and channels would best suit your workflows and what efficiencies might be gained

Access to our demo system to try your test cases